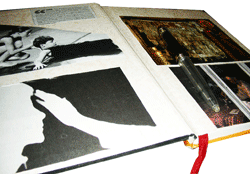 Laurent Contamin, 49 years old, received two separate university degrees in two very different disciplines: science and the theatre.

For the last several years, he has written radio plays for "France Culture." Among them are DEDICATION, a public reading in Grenoble directed by Enzo Cormann, broadcast by Jean-Matthieu Zahnd in 1998, staged by Olivier David at Ermont in 2004, and published by Harmattan Editions; STENOPE, broadcast by Myron Meerson in 2000, staged by Jorn Cambreleng at Theatre 95 in Cergy for "New Written Scenes" and at the Parisian Theatre of the East, a production sponsored by the French Ministry of Culture; IN THE LINE OF PRINCES, recipient of the Beaumarchais/France Culture prize awarded by "Year of the Circus", which included residency at the National Center for the Circus Arts, broadcast by Jean-Matthieu Zahnd in 2002 as best author of "Radio Plays 2002"; and THE WHITE NOTE, broadcast by Jean-Matthieu Zahnd in 2004.

Besides plays for the radio, Laurent Contamin has also written for the stage: HERODIADE, prizewinner of "In Search of Authors" supported by AFAA/Beaumarchais and sponsored by the French Ministry of Culture in 2004, mounted by Serge Tranvouez in the studio/theatre of the Comedie-Française for its program "First Lines".

He has written for puppet theatre -- ROOM UP IN THE AIR and LITTLE ODYSSEE, both directed by Gregoire Callies at the Young People's Theatre of Strasbourg in 2003 and published by Young People's Theatre Editions -- as well as for physical theatre -- LISOLO, OR ECHOES FROM THE SAND, directed by Gilbert Meyer in 2004. His plays for children include THE DAY NIGHT WATCHMEN, which he directed at the Young People's Theatre of Strasbourg in 2005 and LET HEAVEN MAKES US CHILDREN, directed by Gregoire Callies for the Young People's Theatre of Strasbourg and published by Young People's Theatre Editions in 2003.

Other plays that Contamin has written are MEN OF PLEASURE! and PRECARIOUS!, commissioned by the Theatre of Arras and directed by Olivier David in 2005; and GENTLE, directed by Valedian at the Theatre of the Jetty of Toulouse in 2003.

Contamin is the author of a cross-genre book, PASSAGEWAYS, published by Eclats d'Encre (Splashes of Ink) Editions. He has written essays and catalogues for the International Institute of Puppet Theatre at Charleville-Mézières, Marc Bloch University in Strasbourg, the Young People's Theatre of Strasbourg, and Galerie VRG in Paris. He has also published some of his poems in the magazines "Triages" (Selections), "Voix d'Encre" (Voices of Ink), "Pyro" and "Brèves" (In Brief).

Plays that Contamin has directed include : Shakespeare's ROMEO AND JULIET in 2004; THE CHILD AND THE RIVER by Henri Bosco in 2003; excerpts from Paul Claudel 's THE DAYS OF BRANGUES in 2000; ANDREA DEL SARTO by Alfred de Musset in 2000; JUBY by Antoine de St-Exupéry in 1999; and FRAGMENTS by Murray Schisgal in 1995.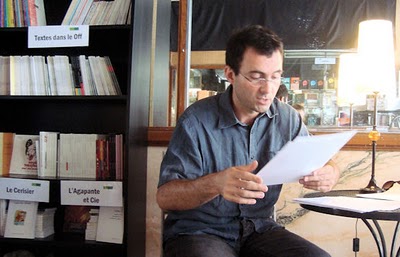 As an actor, Contamin has appeared on stage in roles that have employed different artistic disciplines -- from puppetry to dance: JACKO by John McArdle, directed by Jean-Pierre Gryson; ALONE IN THE COTTON FIELDS, by Bernard-Marie Koltès, directed by Isabelle Paquet; OTHELLO, by Shakespeare; THE TRAGEDY OF MAN, by Imre Madach; MISSCHIEN WISTEN ZIJ ALLES, by Toon Tellegen, directed by Gregoire Callies; GASPARD HAUSER, directed by Delphine Crubézy; MOUSSOS and ROOM UP IN THE AIR, both directed by Grégoire Callies; FROM END IN WHITE, choreographed by Thierry Thieû Niang.
Since 2003, Contamin has been assistant to the artistic director of the National Center for Theatre Arts in Alsace, Young People's Theatre of Strasbourg. In 2007, he's the writer-in-residence of the Boris Vian Cultural Center in Ulis. In 2008, he directs CHASING THE WIND, a circus outdoor show and publishes STENOPE, TOBY and CICADA HOUSE. He's back on stage as a psychokiller, in Bourdon's A WONDERFUL WORLD, writes for ACTIF theater company KNIGHTLY VIGIL and collaborates to a street-and-puppets performance, TEMPORARY WORK. 2009 is A LITTLE ORESTIA and PAPER WEDDING's year of publication.
More recently, he keeps writing in residences (Avignon and Vauvert in France, Mariemont in Belgium) : EXTIMATE NOTEBOOK, LISOLO, CHOCOLATE, BEAUTIFUL BABEL... and is back on stage, hands into puppets, in Dominique Paquet's SCALES OF CLOUDS. He becomes in 2011 president of the Associated Playwrights and keeps on writing and teaching through residences such as Bellac or Colombes
More texts are published (LISOLO, SWEET SUMMER SWEAT, THE OTHER WAY...)
In 2014, he writes, directs and play A PURE LOSS, adapted from Rilke, Kleist and Büchner, that he performs everywhere - living rooms, libraries, colleges, theaters...
He writes two plays based on brain : on one hand a comedy for young audience, STARLING'S BRAIN, and a drama which deals with Alzheimer disease, REMEMBERING THE ORCHARD
> have a look on the Sangam Playhouse Project
> learn more about Laurent Contamin by clicking here
---